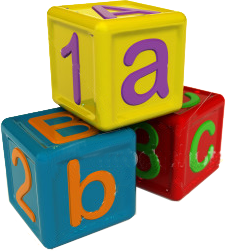 EIN #95-3145242         FACILITY NUMBER 372001091
Hello and welcome to Mira Mesa Presbyterian Preschool. We are committed to sharing Christian values through a developmentally appropriate play based program which encourages positive relationships and celebrates the uniqueness of the individual child while strengthening and supporting families in our community. We thank you for considering our program for your child's preschool experience.
It is our belief that each child is a gift from God. It is our privilege and duty to meet each child's individual needs and to help your child develop and grow into the unique and special person that they are meant to be. Our curriculum is formed using the developmentally appropriate standards supported by the National Association for the Education of Young Children. These standards have been a foundation of our school since 1986.

Art activities
help youngsters creatively express their thoughts & feelings. They help reinforce fine-motor skills & concept development in areas such as colors, shapes, & size relationships.
Science activities
offer children many hands-on opportunities for observation, exploration, investigation, making predictions, & experimentation.
Dramatic play activities
help children express themselves, practice life skills, improve social skills, increase self-esteem, build vocabulary, & solve problems. And, well, dramatic play is just fun!
Music activities
promote youngsters' listening skills, creative expression, & social skills. In music, children can explore sound, volume, tempo, & rhythm.
Story time
is designed to help youngsters develop an appreciation & enjoyment for literature. Reading activities enhance children's vocabulary & comprehension skills, & also expand their knowledge base.
Circle time
is a group gathering during which we share our ideas, plans, & observations. Circle activities are designed to stimulate youngsters' thinking, enrich their social skills, & expand their attention spans.
Gross motor activities
give children the opportunity to use their muscles-as well as their imaginations-as they engage in fun, healthy exercises, such as running, jumping, & climbing.
Fine motor activities
help improve small muscle development & eye-hand coordination. Some common items found in the fine-motor/manipulative area include puzzles, beads & laces, pegboards, crayons, & scissors.
Sand & water activities
allow youngsters to experiment with textures & the properties of different substances. These activities also promote the development of other skills, such as math, science
& language.
Block play
gives children experience with many different concepts, such as shape & size discrimination, spatial relationships, number skills, balance, organization, cause & effect, & classification. Cooperative play skills, problem solving, & creativity are also promoted in block play.
Take a school tour
You are welcome to make arrangements for a tour of the school by calling (858) 578-2160. Tour hours are 9am to 11am.
Where to begin
To begin the enrollment process, click on the "My Procare" button and complete the registration information for your child. As of February 1, 2018, enrollment is full for the 2017-2018 School Year. In order to be on the wait list, click on the "My Procare" button. If a space opens up, we will contact you.